Industrial automation through IoT


Robotics


Environmental Sustainability


Management System for Smart City Development


Agriculture


Application Development


Computer Vision, AI and ML Projects


Healthcare



Traffic Management System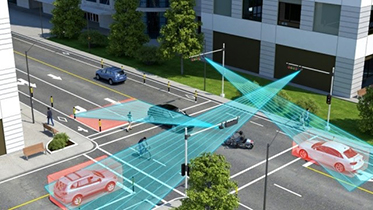 The main focus of the Smart City Lab, NCAI is to solve the problem of traffic congestion. It is one of the major problems faced by the citizens of Karachi and the real-time detection of road traffic congestion may be used in traffic control systems. In order to provide the least congestion route to the emergency vehicles by implementation of the plan, the team has developed modules for vehicle detection, classification and number plate detection. The congestion conditions depend on the type of roads such as single lane road or multi-lane road, heavily crowded road or less crowded road. The benefits of the Traffic Management System are reduction in congestion, delays in collisions, less time to travel, least consumption of fuel and less transportation cost. Also, it leads to lesser road accidents in the future.
Vehicle Detection and Classification
Number Plate Detection
Citi Pulse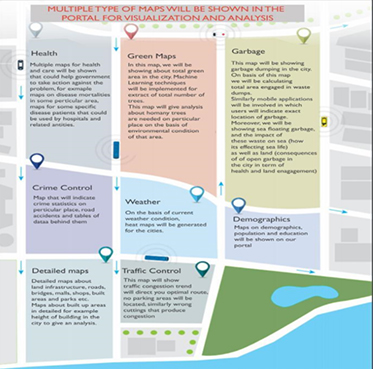 The Smart City Lab, NCAI is planning to work on the Citi-Pulse Project to solve the issues of the society where focus of attention will be traffic management, waste management and crowd management. Major benefits include improved journey times, improved air quality from reducing air pollution generated by slow-moving traffic, reduced delays to public transport, keeps the environment clean and fresh, waste management will help to earn money by creating employment opportunities, traffic speed control and protection of historic and environmentally-sensitive areas. We will also deploy weather stations in different areas of the city. There will be a mega portal that will show multiple types of maps. The data extracted from the maps, will help for visualization and analysis. It will help in notifying the drivers on roads whether to take that route or not like in northern areas of Pakistan where weather takes unpredictable turns either in the form of heavy snowfall, land sliding or even rainfall throughout the year.
Visual Positioning System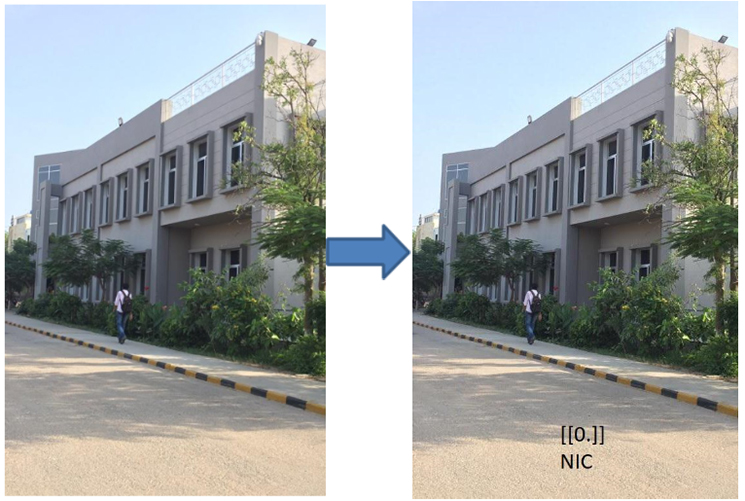 To align the virtual and the physical world, the Smart City Lab, NCAI developed a Visual Positioning System. Karachi is a thickly populated city so these VPS can be used to solve the major problems of our city. There is no proper waste management and traffic management in the city. The VPS can help in traffic management. By using the VPS, the user can quickly find location on the screen with the best route to reach from one part of the city to another, the management board can locate the areas more easily that need to be cleaned, people can reach the hospital easily and find the location of various departments of the hospital on the screen. Through VPS one can easily understand the direction just by looking at the screen because of the visual display. The Smart Positioning System can help in managing the activities of the city more easily. It can also help in the planning process.
Smart Irrigation System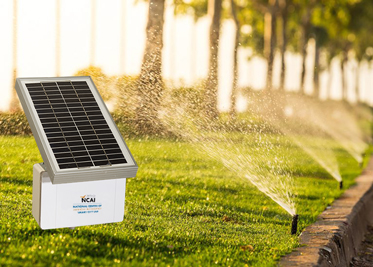 Smart Irrigation System is the latest IoT technology which is helpful and leads to ease of farming. The engineers at the Smart City Lab has developed the IoT devices that will improve the process of Smart Irrigation. Approximately, 70% of the water withdrawn from various fresh water sources is used for agricultural activities. Majority of the water is wasted due to over watering caused by inefficiencies in traditional irrigation methods and systems.
Adopting the smart irrigation will be a best solution. This system monitors soil conditions and plant water use. By using this smart irrigation concept we can bring back the greenery which is going to be vanish because of the rapid urbanization. The system will help to get farmers good yield.
Secure Application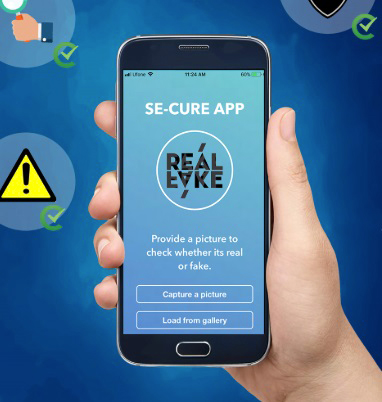 The team at the Smart City Lab is making a secure application. The purpose of developing a secure app is to easily detect the fake products. This could be done by installing the application on the phone and scanning the logo of the product. Through the secure app, one can easily get the information about the brand. The application will scan a unique encrypted image printed on the product.
Our team has made a logo that different companies will include on the packing of their products. The secure app will scan the logo. This app is extremely beneficial for pharmaceutical companies, clothing brands and daily food products.
Face Check App
The Smart City Lab has successfully developed the module for face recognition. The lab has made a Face Check App. The use of this new technology will change the way we live making things more secured. This special feature will remove the traditional way of entering a password on the phone and bank accounts, marking attendance at office and detecting the stranger entering the building.

Stereo Vision & ADAS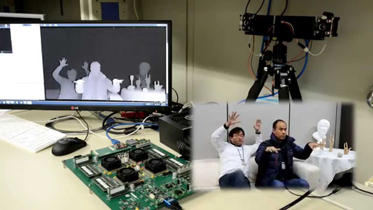 The engineers at the Smart City lab NCAI at NED University of Engineering and Technology are working on Stereo Vision to develop collision avoidance modules which will be used in the autonomous cars to detect the objects around the car on the basis of 3-Dimensions. Stereo Vision will help to solve the major problem of the drivers while driving by detecting obstacles on roads. It can be used as a part of the Advanced Driving Assistance System (ADAS) for safe driving. It will be extremely effective for passive sensing and easily interpret the physical environment around. The module based on stereo vision will help to prevent accidents and identify traffic.
Stereo Vision and ADAS ensure the well-being of drivers while in the autonomous vehicle. Both of these features are an innovation in the automobile industry. Smart City lab NCAI is looking for collaborators to add these features in the autonomous vehicle to make this project a reality.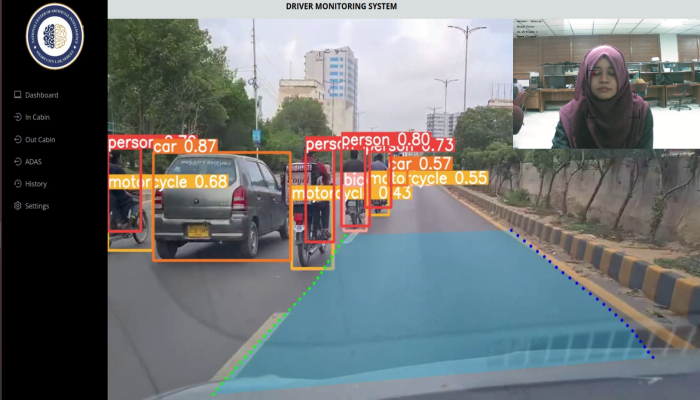 AI Kit for Kids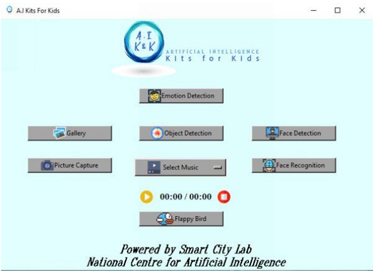 The Smart City Lab, NCAI encourages not only university students but also young children to develop their keen interest in AI. The AI Kits for Kids have a kids game which consists of modules for Object detection, Emotion detection, Face recognition and Face detection. It also consists of a game; flappy bird along with a music player and a gallery. The game is designed to capture pictures using the picture capture module and to experience the power of AI. This game will develop a thirst for knowledge in children with the help of games and increase their interest in AI. Younger generation have a sharp and intellectual mind and they are smart enough to learn new strategies related to AI. The aim of Smart City Lab is to teach them new concepts with the help of games based on AI. It nourishes emotional intelligence and escalates mental activity skills by creating curiosity of learning new things in young minds.
AI Proctor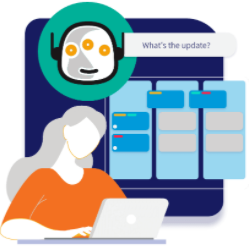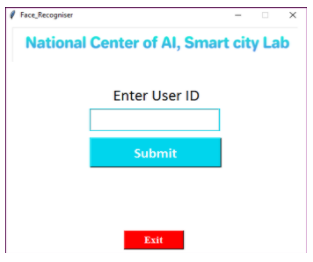 The Smart City Lab, NCAI brings an ultimate solution to fulfill the need of monitoring during Online learning sessions with 99% accuracy. AI Proctor provides powerful automated time tracking capabilities. The AI proctor delivers fully-automated identity verification plus data recording. The recorded proctoring data includes video, ongoing activity and desktop screenshots which will be available on the integrity review page for instructors for self-review. The Advantages of AI Proctor is that It can detect any type of cheating, minimizes the chances of faking identities to get third-party assistance, Screen sharing to another computer would be prohibited during online exams with a good time tracking tool where the freelancers and contractors have concrete proof of time spent when billing clients, employees will be held accountable for their output each day. Monitoring features of an AI Proctor has strict privacy controls to ensure the security of your employees' information as our product gives complete access to the buyer and detailed reports to keep track of all the activities of your staff.
FAQs
1-does an AI Proctor detect cheating?
By recording proctoring data which includes video, ongoing activity and desktop screenshots of the students.
2-How does a remote AI proctor work?
AI Proctor remotely monitors the online sessions using face recognition technique and eye ball tracking.
What is the benefit for introducing AI Proctor service in Pakistan?
As it says, Necessity is the mother of invention so this service provides live monitoring and it will help not only in academics but also in other work forums and this will give a boost to Pakistani economy in the AI field.
What will be the advantage of launching Remote AI proctor online service in Pakistan?
If this service is launched in Pakistan then we do not need to buy a software from abroad as it is available locally.
Autonomous Vehicle
The Smart city lab, NCAI aims to lead the innovation in the automotive sector of Pakistan. We have proceeded to gather real-world data with the help of state-of-the-art cameras and equipment and have shared a glimpse of our data collection and analysis. The Autonomous Vehicle, as the name suggests, will be able to drive without human interaction; a situation most suitable for people not comfortable with driving, patients, and the elderly. AV also becomes a more preferable option in the long future due to its being less prone to accidents; frequently arising due to human error. In a nutshell, Smart City lab NCAI envisions making Pakistan technologically at par with the world with solutions unique to its dynamics.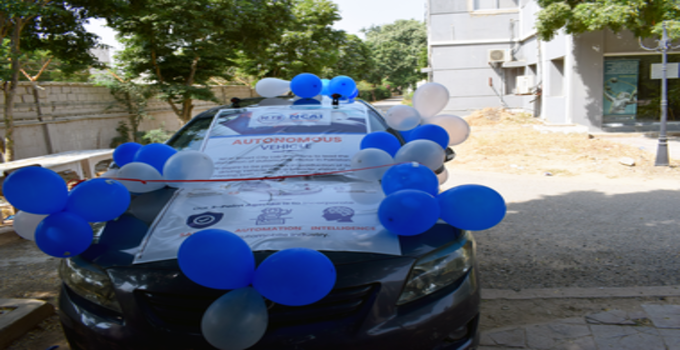 Internship Portal
The Smart City Lab, NCAI not only provides internship opportunities to the students of NED university but also offers the chance to other individuals through the Internship Portal. It connects both the employer and employee on one platform so that employers can be connected to potential future employees, called interns, to work at a company for a fixed period of time. Interns are usually undergraduates' students who are in search of internships during their summer or winter breaks. So, they search for internships that last between four weeks to six weeks. Internships are usually part-time if offered during a university semester and full-time if offered during the vacation periods. Keeping all the above things in mind, Internship Portal facilitates in this regard. Students/internee and employers are registered on the portal then students can easily approach their particular mentor/employee. This will help in bridging the gap between the educational institutes and industries through communication where they can transform their theoretical knowledge into practical experience.
FAQs
1-What differentiates your internship portal with other portals providing the same facility?
Our Internship Portal provides communication facilities according to interest and choice of an individual either in industrial sector or educational institutions.

Rice Quality Analyzer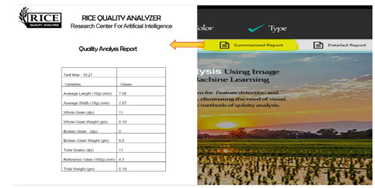 Smart City Lab, NCAI has developed a solution named Grain Scan that can reliably identify the length, width of the rice, Broken rice percentage, Total weight of the sample whereas our solution also detects the Chalky and yellow grains as well as their weighted Percentages. The Smart City Lab, NCAI has successfully developed a system namely Rice Quality Analyzer to overcome the issues faced by exporters when grains are exported. Quality parameters of food products are characterized and reviewed into various evaluations. Since these grains are exported, physical evaluation is tedious, might be changing outcomes and costly. A manual quality check takes approximately 1 hour to analyze 10 grams of Rice grain sample. Consequently, exporters usually face rejection for their grain or receive less payment for their exports. Rice Quality Analyzer identifies different parameters like average length, average width,of sample, whole grain, aspect ratio to facilitate the exporters in terms of money by improving the quality inspection and decreasing the human error. Thus, Rice Quality Analyzer is time saving, gives accuracy results up to 99% and one-time investment which leads to cost efficiency and an increment to the exports of Pakistan.
FAQs
1-Rice Quality Analyzer will decrease human labour so don't you think they can lose their job like this?
Yes, they can work on fields and learn some new skills.
2-How is it beneficial for the local Rice Quality seller?
It is equally beneficial for local sellers too as this software is not taking much time in evaluating the features
Reverse Vending Machine (RVM)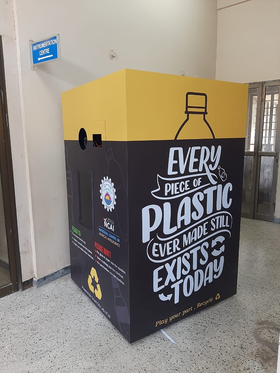 Do you know that 250 million tons of garbage produced in Pakistan mainly consists of PET bottles, plastic bags, and food scraps? According to WWF statistics, Plastic accounts for 65% of the total garbage produced in Pakistan. A simple plastic bag takes at least 500 years to degrade, while a plastic bottle takes approximately 300 years. Unfortunately, the use of plastic in Pakistan increases by 15% every year! These numbers are alarming and demand immediate actions taken by the citizens and the government as well. Smart City lab NCAI understands the civic duty to give back to society and play its part in environmental sustainability. RVM is an effort of Smart City lab NCAI to reduce plastic waste in Pakistan. We have observed that in Pakistan, no system exists to recycle PET bottles. Consequently, consumers dump them in dustbins, mostly anywhere else they like. Plastic is naturally impossible to degenerate, so it is necessary to collect all the bottles produced and transfer them to be recycled. Our installed RVM machine takes empty PET bottles, users enter their contact number to generate a QR code sent through SMS. This QR code can be entered in the RVM App to redeem points and get discounts.
RVM helps in sustaining the environment by taking action against climatic changes nowadays. RVM also aims to sustain life on land and underneath the sea by decreasing plastic waste like PET bottles to a minimum. It educates the people on the damage caused by the irresponsible production of plastic waste. Moreover, the indigenous development of RVM lessens the burden on the economy; it instigates the production of RVM in Pakistan and is an innovation in the vending machine industry. RVM is one of the milestones in achieving the vision of a sustainable environment and city. Presently, Smart City lab NCAI has deployed the project in NED University and launched it at an event at IBA University. Smart City lab NCAI is looking for partners and collaborators to introduce new functions and rewards in the RVM.
Development of Neural Sensor Network to Strengthen Decision Support System for Water Resource Management Using AI & IoT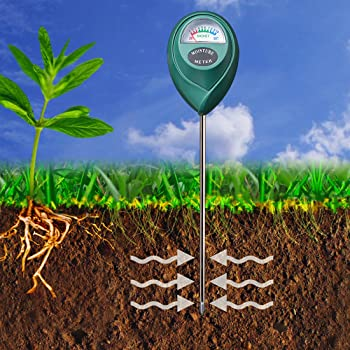 Pakistan's principal natural resources are fertile soil and water; thus, agriculture is viewed as the foundation of its economy. Sindh has an agriculture-based economy, and produces a vast number of crops. Due to the absence of the monsoons, its limited water supply leads to the scarcity of basic crops. The main goal of this study is to determine the optimal solution in IoT based irrigation to bridge the gap between the utmost usage of water to maximize yield of crops. The main objective is to design an expert system to automate the process of estimating water supply to the field. It will be evaluated by implementing a decision support system to decide how much water should be provided. We will use an Intelligent Decision Support System (IDSS) because it is a decision support system that makes immense utilization of artificial intelligence (AI) techniques. Therefore, the study concluded that the current utilization of water for irrigation system can be minimized extensively while keeping up the yield by applying IoT based irrigation scheduling methods.
Green Space Detection and Trees Count Analysis of Pakistan Using Satellite Imagery and Deep Learning

Trees and other forms of greenery and plantation are vital for the survival of living things on Earth. Trees not only provide us with oxygen for our respiration and absorb carbon dioxide, but they help to stabilize the soil, balance the ecosystem, and are also an active food source for humans and animals alike. Moreover, wood from the trees is used to make paper, houses, furniture, and tools. Unfortunately, the area occupied by plants is quickly reducing due to deforestation and overpopulation. Therefore, a system is required which can determine and analyze the amount of plantation there is to be in an area.
The focus of this study is to gather satellite image data for Pakistan; then analyze and process it to recommend the right ratio of greenery. Green Area Detector is supposed to be a concept to fight Air Pollution, lack of plantation, and deforestation in any part of the world. It will be designed to generate information about the specified surroundings. Hence, the study aims to provide green and non-green parts in any part of the world with a percentage of the green area after analysis.
Intelligent Third Umpire Review Decision Using Artificial Intelligence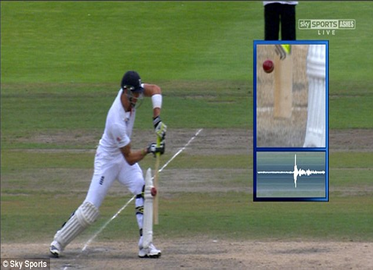 The Artificial Intelligence, Machine Learning is allowing sports boards and clubs to use technology to generate and use a variety of data samples to analyse player's performance and to enhance accuracy of cricket rules for taking decisions. This in turn can significantly tackle the challenges faced by umpires' jury for accurate levels of decision making especially in critical decisions regarding Out/Not Out; his decision has to be robust and quick's as to make the game of cricket much fairer and immediate. This research proposal introduces machine learning and sound analysis, and a methodology with voice sensing decisions for stumps that may have the future prospective to support other rules by using the data collected from live sports
Smart RFID Parking
Are you one of those who think it is tough to organize and manage your stuff? Or who always remains in a hurry to reach somewhere meeting a deadline? So the team of Smart City lab NCAI brings an optimal solution to mimic the traffic congestion due to parking spaces that is 30% in urban areas. It allows the city to monitor and manage the parking areas 24/7. The drivers search parking spaces and waste around one million barrels of oil a day. It will decrease driving time, thus lowering the number of daily vehicle emissions. It can also generate targeted offers and promotions for citizens based on parking data.
With Smart RFID parking, the search for parking spaces becomes affordable as less fuel is burned. With innovation in traffic analysis and parking space management infrastructure, time and fuel are saved in parking; the citizens can focus on their work and increase their productivity. Also, less fuel burned leads to less air pollution, thus contributing to the environmental sustainability in the cities. Currently, Smart City lab NCAI is seeking partners and collaborators whose goal is to innovate automation and provide solutions through AI while excelling economically.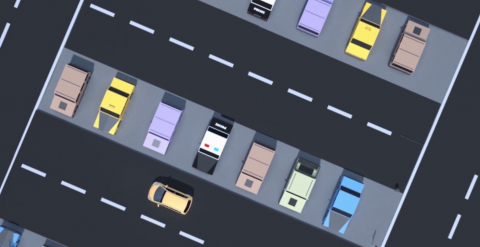 Intelligent Hearing Assistant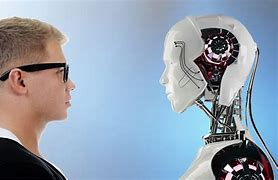 Do you know how blessed we are in terms of physical and mental health? Over 5% of the world's population suffers from hearing disabilities. Then why not pave the way for those who are in dire need of help? Smart City lab NCAI brought a solution for the people suffering from hearing disability who require a tool for automated communication. Our Intelligent Hearing System potentially improves the quality of life by providing aid to hearing-loss people by enabling them to communicate independently. It aims to promote education among the suffering people. It can be beneficial in different scenarios like ordering food in restaurants, as an interpreter between various language speakers, and in offices. This system comprises a robot equipped with Artificial Intelligence and capable of speech recognition. It can be in the form of a miniature humanoid robot and wearable device.

The Intelligent hearing assistant is specially designed to look after and communicate with people suffering from hearing disabilities. It can also help in taking care of patients and senior citizens. This system can also be applied in educational settings for deaf children. The Smart City lab NCAI has indigenously developed this system in Pakistan; it is affordable and not a burden on the economy. Currently, Smart City lab NCAI is seeking partners and collaborators whose goal is to innovate automation and provide solutions through AI while excelling economically.
WeedBot
Cotton is a natural crop, and it is one of the world's expanding textile industries. This industry yearly gives at least $600 billion worldwide. 60% of Pakistan's overseas earnings occupy the production of cotton products. Many types of pests and viruses attack cotton crops. These viruses are present mainly in the weeds. These weeds are found along the roads, water channels, and field banks. Weed management is very much important to save our cotton crops as well as the quality of the cotton crops. The research team of Smart City lab NCAI developed autonomous weed detection with the help of automatic remote-controlled cars to manage weeds. This vehicle is equipped with vision sensors and can achieve efficient weed management. An intelligent decision support system based on potential algorithms of AI and ML serves the purpose. The Pakistan Vision 2025 also focuses on adopting modern farming techniques and emphasizes training the farmers using new methods for cultivation at minimum investment cost. The weed bot guarantees good health and the well-being of different crops by removing weeds from them. Removing weeds involves engaging manual labor repeatedly and is prone to human errors. Deploying weed bots on farms assures a good harvest due to maintaining plant health, consequently leading to economic excellence. The weed bot opens the door for innovation in the agricultural industry. Presently, Smart City lab NCAI is developing this research-based project with collaboration from Germany.
Plant Disease Detection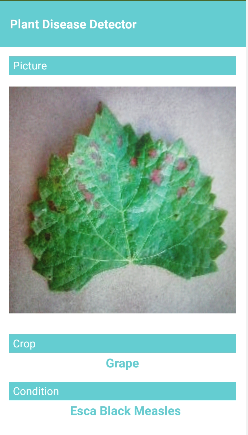 The Smart City lab NCAI team developed a Deep learning based plant disease detection app. It has a simple interface for the farmer to upload pictures of the leaf. Currently the system is capable of working on 14 most common crops e.g. tomato , potato , grape etc. Among the 14 crops, the system is able Identify 26 main kinds of diseases.Eg : Potato late Blight, Grape Black Esca etc. This allows a farmer to react quickly and prevent further crop damage.
This app guarantees health and well-being of plants by accurate and timely detection of diseases. A rapid and automated test ensures a good harvest and, consequently, good economy. The accurate detection helps in flourishing the plant medicine industries in Pakistan and a responsible production and consumption of resources. This app can also be used by citizens in cities to take care of their plants and trees for a sustainable environment in the urban areas. The Smart City lab NCAI is seeking partnerships and collaborators to further develop this project.
Predictive Analysis of Fetal Cardiovascular Disease using SMOTE (DICOM)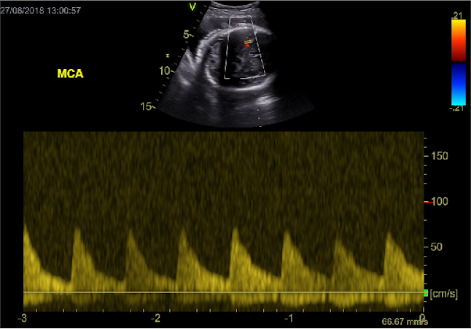 Machine Learning approaches serve as well-known and significant in the field of clinical research. The scope of cardiovascular diseases (CVD) influence the heart and nerves is a typical study during the human life cycle. Early identification of cardiovascular infection and procedures prompted the survival chances of patients to decrease vulnerability. The healthcare industry contains lots of clinical data. AI assessments are needed to make decisions feasibly for calculating heart ailments. The Predictive Analysis of Fetal Cardiovascular Disease using SMOTE (Synthetic Minority Oversampling Technique) investigates the relative performance of various machine learning methods such as Logistic Regression, Naive Bayes, SGD Classifier, KNN, Decision Tree, Random Forest, Support Vector Machine (SVM), XGBoost Classifier via medical records. The crucial task is to develop a model with a skewed dataset and produce accurate results. SMOTE technique addressed the issue of imbalanced data to balance the positive and negative samples of the dataset. In addition to this, the model expects to predict the fetus's survival chances if it has any CVD ailment.
This research based project ensures the good health and wellbeing of newborn babies or infants by accurate and timely diagnosis of cardiovascular disease in them. The system is indigenously developed and ensures economic growth and development in the medical equipment industry in Pakistan. Currently Smart City lab NCAI is seeking collaborators whose goal is to develop innovative solutions nationally.
Patient Monitoring System
The Smart City lab NCAI team designed an innovative, reliable and cost-efficient oxygen gas pressure monitoring device that is equipped with all the state of the art sensors required to monitor gas levels. It starts by vigilantly monitoring the oxygen gas levels in the cylinder or tank; it keeps collecting data and makes decisions accordingly. When the pressure of gas drops to a certain level, it triggers the system to send an alarm email or SMS so that the tank is refilled immediately. The device allows remotely monitoring the oxygen gas levels on a web platform thus the vendors can schedule the tank refill timings. With the help of hardware telemetry systems, the device is reconfigurable and can auto update itself whenever new updates are made available by the team, a phenomenon also called "Over-The-Air Programming". Additionally, the IoT based device ensures personal, process and environmental safety by avoiding run outs and overspills. Finally, since this device is an IoT-based device, its a combination of hardware and software. Hardware involves designing and implementing the circuit as well as the body of the device.
The system ensures good health and wellbeing of patients by accurate and timely diagnosis of Cerebral Tuberculosis. The system is indigenously developed and ensures economic growth and development in the medical equipment industry in Pakistan. Currently Smart City lab NCAI is seeking collaborators whose goal is to nationally develop innovative solutions.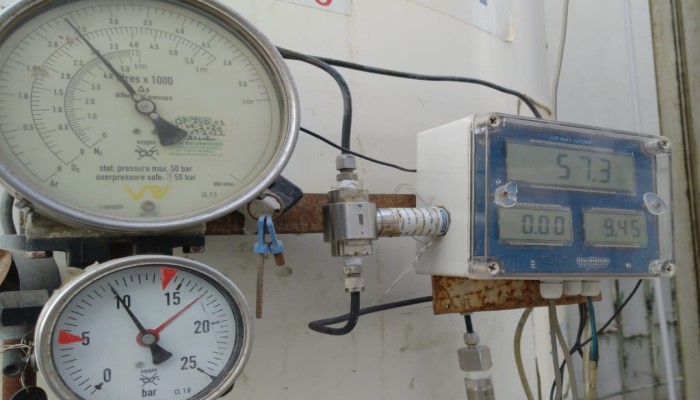 Machine Learning and Sampling Techniques to Enhance Radiological Diagnosis of Cerebral Tuberculosis
Cerebral tuberculosis (TB) is one of the neurological manifestations of tuberculosis infections responsible for devastating sequelae and mortality. It is a challenge to diagnose as it mimics other infectious and neoplastic pathologies of the brain. There is a need for rapid and accurate diagnostic approaches, in order to prevent the dismal outcomes arising as a result of delayed or incorrect diagnosis. This paper aims to develop a classifier to diagnose cerebral TB using various radiological features present on MRI of the brain with the help of Machine Learning (ML). Cases of TB and non-TB conditions (including meningiomas, gliomas, fungal and bacterial brain infection) presented to Aga Khan University Hospital, Karachi, Pakistan, were included and divided into training and test datasets. Features were selected using correlation, and besides age and gender, included multiple radiological features recorded from MRI of the brain. After the application of Synthetic Minority Over-sampling Technique (SMOTE), SMOTE-Tomek Links, Edited Nearest Neighbor (ENN) SMOTE-ENN, and Adaptive Synthetic (ADASYN) techniques for balancing the datasets, classifier accuracy was tested using two models: logistic regression and random forest. Highest accuracy (90.9%) was achieved using logistic regression along with SMOTE+TOMEK with 95.4% Area under the Curve while obtaining a F1 score of 92.8%

The system ensures good health and wellbeing of patients by accurate and timely diagnosis of Cerebral Tuberculosis. The system is indigenously developed and ensures economic growth and development in the medical equipment industry in Pakistan. Currently Smart City lab NCAI is seeking collaborators whose goal is to develop innovative solutions nationally.

User engagement prediction on social media platform using machine learning and deep learning
The communication gap in a professional setting often results in low productivity and less efficiency of an organization. In this modern era, people are more vocal and open about their opinions on social media than in a professional environment. In this research, psychiatrists along with the research team made a closed group on Facebook. This social media platform has been chosen due to its popularity among common people. Research has been carried out in this closed group where users' behavior has been monitored concerning the specifically curated content. The behavior analysis has been categorized based on post-engagement and their future actions done by the user/employees. This research aims to determine the outreach of a specific type of Facebook post using different parameters through Deep Learning (DL) algorithms.

This study aims to ensure the good mental health and well-being of employees in a workplace. By applying psychological techniques keeping the posted data in mind, the study concluded that the efficiency of employees increased and the work environment became much better. The results of this study are applicable in different industrial settings to increase the turnover and have satisfied employees. Currently, Smart City lab NCAI is seeking collaborators whose goal is to develop innovative solutions nationally.

RoboMan
RoboMan is a human-size 3d printed robot. Smart City Lab is part of the global team working on this project. The idea is to make a low cost humanoid robot development kit for researchers, students, and enthusiasts who intend to explore this field. Hardware like this easily costs about 3 million PKR, hence for an economy like Pakistan to excel in robotics and especially humanoid robotics becomes very difficult since many universities, companies, and research labs don't have the resources to afford this hardware.
We have been working on this project for the past 5 months and so far have been able to work through the head and both arms of the robot. Currently, a team of engineers is working on this multi-disciplinary project's embedded and AI side.